News | 2 min read
fDi magazine: Richmond Region among best in supply chain strategy
January 12, 2021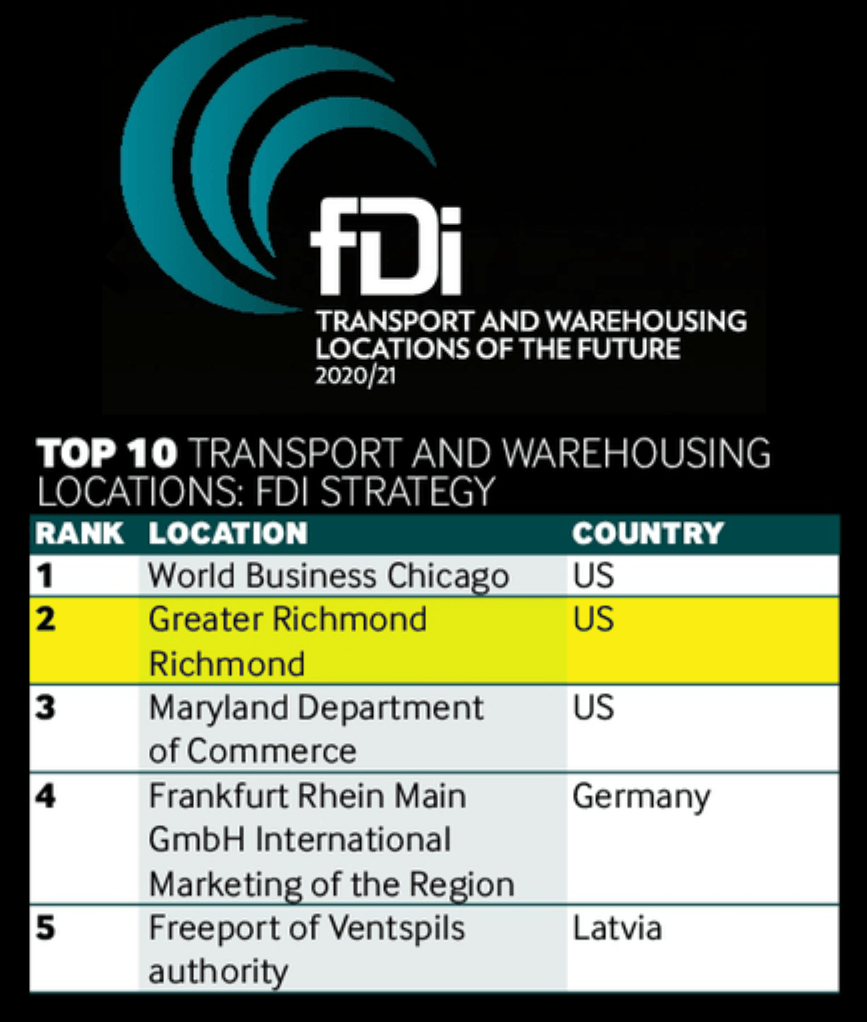 RICHMOND, Va. – Greater Richmond is ranked second for its Transport and Warehousing Strategy in the latest issue of fDi Intelligence magazine. The publication's name, fDi, is an acronym for foreign direct investment which ranks cities for international business expansion and investment. fDi most recently ranked Greater Richmond among the top Mid-Sized Cities of the Future for 2019/20.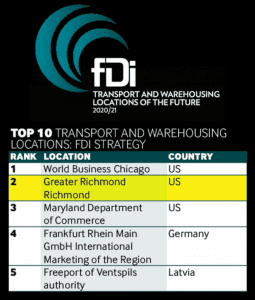 The Richmond Region is ranked between Chicago and the state of Maryland in fDi's December 2020/January 2021 issue which highlighted Transport and Warehousing Cities of the Future. The report cites Greater Richmond's strategic features such as its Mid-Atlantic location, Richmond Marine Terminal and Commonwealth Center for Advanced Logistics Systems as core benefits for investing in the City of Richmond and counties of Chesterfield, Hanover and Henrico.
"The Richmond Region's location is strategic to reaching established markets in the Northeast U.S. as well as growing populations in the Southeast," said Leslie Haley, Chair of the Greater Richmond Partnership and Chair of the Chesterfield County Board of Supervisors in Virginia. "Greater Richmond offers a solid infrastructure network for transportation and warehousing companies because of the strong network of roads (Interstates 95, 64 and 85), rail, air and the Richmond Marine Terminal connection to the Port of Virginia (the most tech advanced and automated port on the east coast), creating unparalleled level of logistics access."
"International conglomerates, business owners and site selection consultants trust the rankings in fDi Intelligence as part of The Financial Times in London," said Jennifer Wakefield, Interim President and CEO of the Greater Richmond Partnership. "GRP's international prospect pipeline has been one of our strengths throughout our 25-year history and this ranking helps keep Greater Richmond top of mind."
The Richmond Region is home to nearly 240 internationally-owned facilities including recent announcements Rose Holm, CameraMatics and Cartograf.
About the GRP
The Greater Richmond Partnership, Inc. (GRP) is the lead regional economic development organization for the City of Richmond and counties of Chesterfield, Hanover and Henrico in Virginia. GRP recruits companies from all over the globe which provide employment opportunities and taxable capital investment for the community. For more information, visit www.grpva.com.
###