Blog | 2 min read
Media coverage results from logistics familiarity tour
June 25, 2019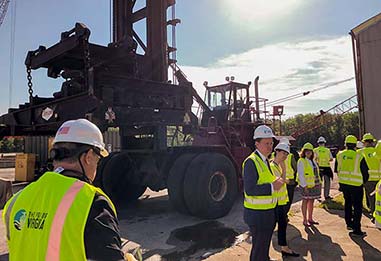 Last month, the Greater Richmond Partnership (GRP) and the Virginia Economic Development Partnership (VEDP) hosted a media tour to explore the Richmond Region's logistics sector. Following the tour, Joseph Keefe, Editor at Maritime Logistics Professional and MarineNews, authored an article on the Port of Virginia's Richmond Marine Terminal, its burgeoning growth over the past 10 years, and its recent acceleration of productivity:
Lifting a port to prosperity

A Liebherr LHM 420 Crane is at the heart of a rapidly expanding shortsea shipping success story. Reliability is the key for a port that's turned the corner, with nowhere to go but 'up.'

Way back in January of 1996, I moved to Richmond, Virginia, from Houston, Texas. Still very much in the maritime business as a cargo surveyor and ship expeditor, the Port of Richmond intrigued me, every time I drove past it on I-95. Eventually, I got a tour of the struggling port, courtesy of then port director and retired USCG Captain Marty Moynihan. Moynihan, an energetic executive, was keen to expand the port's horizons.

Back then, as much as half of the port's meager business was tobacco shipping to and from Philip Morris, just across the street. Still, Moynihan persisted, and the port – later helped by Sean Connaughton, Virginia's Secretary of Transportation from 2010 until 2014, and prior to that, the U.S. Maritime Administrator from 2006 until early 2009 – slowly came to life. Connaughton, then a huge supporter of shortsea shipping, put the muscle of those state and federal government positions to work, advancing the role of inland waterways in the nation's intermodal equation.
Read the rest of the article here.