Blog | 5 min read
Richmond Region a top destination for STEM+H professionals
February 21, 2020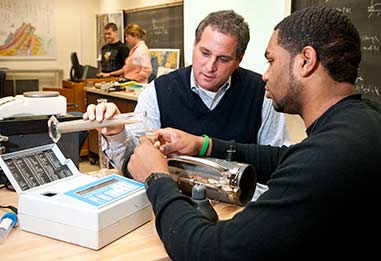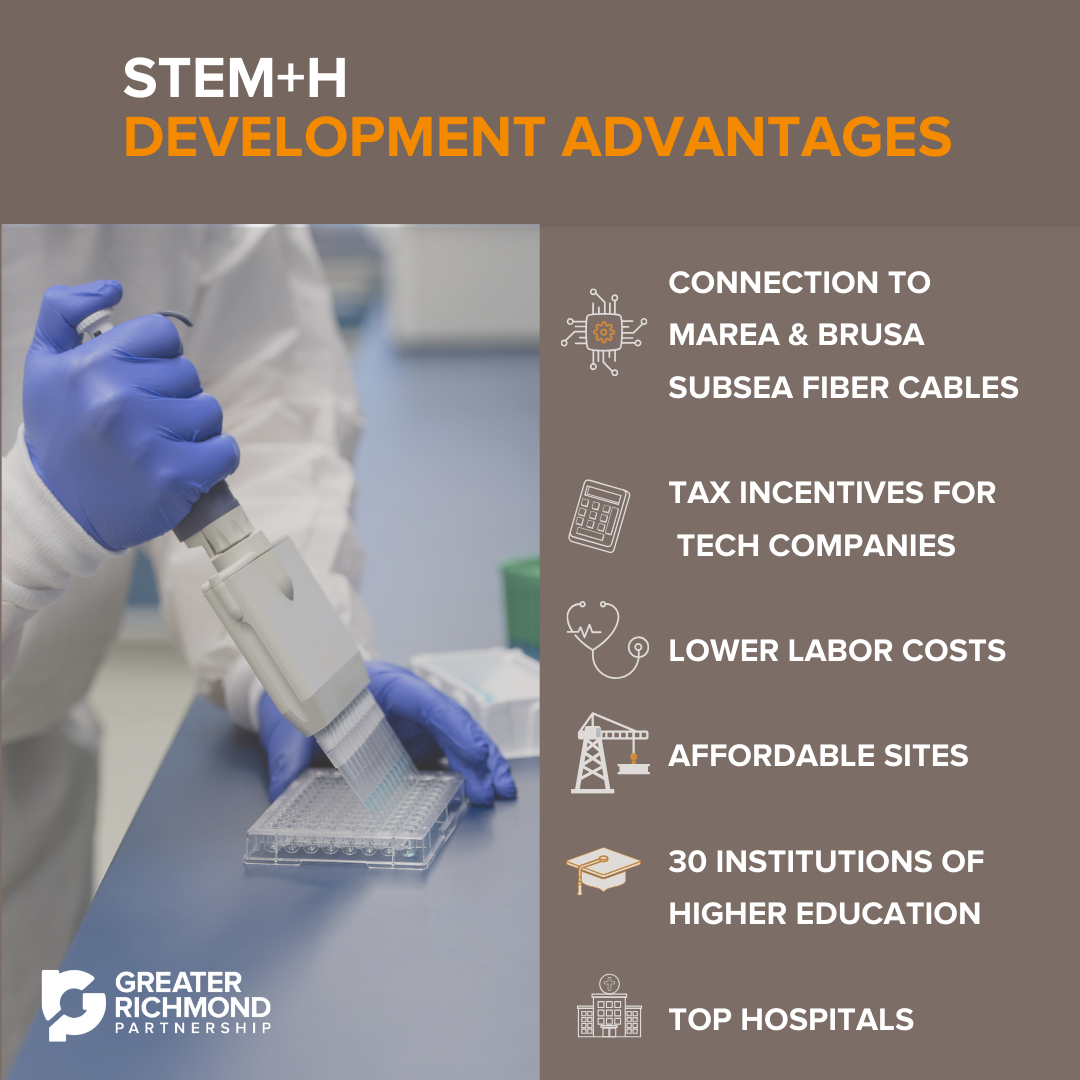 STEM+H employees are in high demand across the Commonwealth and these industries (science, technology, engineering, math and health) are among the fastest-growing throughout the U.S.
According to the U.S. Bureau of Labor Statistics, STEM has an expected national industry growth of 8.8 percent between 2018 and 2028. The health industry alone has a projected growth of 14 percent, adding about 1.9 million new jobs. Greater Richmond mirrored this nationwide trend by increasing 2.6 percent in STEM+H occupations between 2018-19. Isolated health occupations increased by 2.7, above the national level of 2.3 percent.
Tech outlook
Tech epicenters are trending outside of Silicon Valley and the Greater Richmond region has become an attractive destination. WalletHub compared the top 100 markets for STEM professionals ranking the Richmond MSA on its shortlist, naming quality of life, STEM friendliness and professional opportunities as critical factors.
The region's also considered attractive for connection to subsea fiber cables (MAREA and BRUSA), affordable sites and tax incentives. Chesterfield County recently reduced its data center tax rates by 86.6 percent. Taxes dropped from $1.80 per $100 to $0.24 per $100, making it the lowest data center tax rate in the state. Henrico County reduced its tax rate on data centers in 2017. Those operating in Henrico saw an 88.6 percent decrease on computer and related equipment tax rates, decreasing the rate from $3.50 to $0.40 per $100 and major tech companies are taking note.
Facebook is currently developing in Henrico's White Oak Technology Park, set to occupy 2.5 million square feet of data center space upon completion, creating over 240 new jobs. This project joins existing data centers in the region such as QTS, Capital One, Bank of America and others.

Healthcare trends
In 2019, Virginia made WalletHub's shortlist for Best States for Doctors, ranking high in the 'medical environment' category, which measures the quality of the public hospital system, hospital safety, and presence of nationally accredited departments.
The Richmond Region has more than 4,100 physicians and 19 acute care/specialty hospitals with nearly 4,000 staffed beds. The most extensive medical systems include Virginia Commonwealth University (VCU) Health System and McGuire Veterans Affairs Medical Center.
HCA Virginia is headquartered in Richmond and is the third-largest employer in the region after VCU Health. HCA maintains a network of six hospitals, four free-standing emergency centers, over 2,500 affiliated physicians and more than 300 community-based providers.
Bon Secours Health System has four hospitals in Greater Richmond plus additional care facilities, as well as a college of nursing, a school of medical imaging, and two-family practice residency programs. It is the fourth-largest private employer in Greater Richmond.
STEM+H pipeline
Among competitive market advantages, the Richmond Region is home to nearly 30 institutions of higher education which train and supply the next generation of skilled professionals. Local universities and colleges offer a wide arrange of degree programs ranging from certificates to PhDs. Community colleges and technical schools have become a popular option for industry-specific professional careers, such as technical support, web design and medical assistant:
VCU Health is one of the most innovative and comprehensive medical centers in the country. The VCU medical school is one of the largest programs in the nation and houses the oldest transplant center in the country.
VCU is diligently working to accommodate an increased demand for lab space by breaking ground on a new STEM building in Spring 2020.
VCU Health continues to grow and plans to complete a new $349 million outpatient facility in 2020.
The University of Richmond offers competitive STEM programs to potential and current students allowing them to get hands-on experience. These programs (SMART and URISE) aim to increase the number of students from groups traditionally underrepresented in science and math disciplines
Gov. Ralph Northam has proposed a $1 million investment to establish UTeach programs at VSU, a public historically black college. The program would allow students to receive their secondary teaching certificate while also completing a STEM major, without adding additional time or cost to their degree.
VCU is in the process of launching a new Center for Innovation STEM education building at the Science Museum of Virginia. This culturally-responsive program will pair with Greater Richmond K-12 institutions to provide improved and expanded STEM education to diverse students.
The outlook for college graduates is positive, as STEM+H related fields are some of the most stable and lucrative. Virginia is expected to add over 150,000 STEM jobs over the next five years. Top areas of growth for STEM+H professions in Greater Richmond include registered nurses, software developers, computer system analysts and information security analysts.
A vital location for science & tech
Despite growth, Greater Richmond wages remain 20 percent lower than the Washington, D.C., and other major east coast metros, on par with national salaries for bioscience and information technology.
In addition to upcoming development, Greater Richmond is home to the VA Bio+Tech Park, adjacent to VCU Medical Center. The Park is home to a unique mix of more than 60 companies, laboratories and research centers with over 2,400 workers. Over the past year, two leading health innovators have added to the already impressive roster at the VA Bio+Tech Park:
In January, Tympanogen, a medical device startup, was awarded nearly $250,000 as a Small Business Innovation Research (SBIR) contract from the Department of Defense. This Phase I award will support safety testing of Tympanogen's gel patch for eardrum repair, used in field settings to treat service members sustaining perforated eardrums.
Headquartered in Marseille, France, HalioDx opened its first North American facility at the Park last February, pioneering the immunological diagnosis of cancers and improving the management of localized colon cancer.
As nationwide demand increases for qualified employees, expect the Greater Richmond region to continue to distinguish itself, grooming, attracting and maintaining businesses and professionals alike.